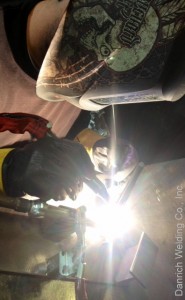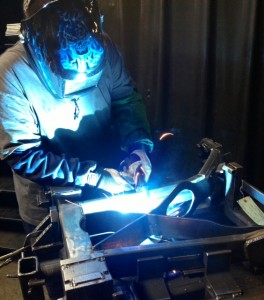 Our Superior Service and Dedication to the Relationship with our Customers cannot be matched. Let us show you today!
From Prototype and Low Volume to Fully Automatic Robotic Production Needs
We weld a wide variety of metals that include:
Carbon Steel, Stainless Steel, Aluminum, Cast Iron, Cast Aluminum, Titanium, 4130, 4140 and other exotic alloys.
We currently house eleven welding stations to accommodate just about any welding need you may have.
GTAW, SMAW, GMAW-P, GMAW-S, OAW, SW, SIVER BRAZING
We are certified for the following procedures:
Militay Specifications, AWS Specifications, ASME Specifications
** If we do not hold a certification you are looking for, we can qualify our welding technicians to your specific requirements.

AWS CERTIFICATIONS:
AWS-D1.1 – Steel
AWS-D1.1 – 4130
AWS-D1.2 – Aluminum
AWS-D1.9 – Titanium
ASME SECTION IX CERTIFICATIONS:
Carbon Steel – Thickness 1/16 to 3/4
Carbon Steel – Thickness 3/16 to 3
Carbon Steel to p-5 steel, chromoly – thickness 1/16 to .560
Stainless Steel – Thickness 3/16 to .875 (304,316,347)
Stainless Steel – Thickness 3/16 to .686 (410)
Stainless Steel – Thickness 3/16 to 1.50
Hard facing Stellite #6 overlay – Thickness up to 1.00
MILITARY CERTIFICATIONS:
D17.1
D17.1 – 4130 Class A
D17.1 – Inconel Class B
MIL-STD-1595A Aluminum
MIL-STD-1595A Stainless Steel
MIL-STD-1595A Carbon Steel
MIL-STD-248B Carbon Steel
MIL-STD-2219 Class A
MIL-W-8604A Aluminum
MIL-W-8611A Steel,Alloys,Stainless
MIL-STD-278D Weld procedures and qualifications per MIL-STD-248B. ASME section IX qualifications may be used with prior approval.